We come from longtime Healdsburg families, with deep roots in our community. We were born and raised here, and we are strongly committed to our community of family, friends, and clients. Many of our friends have become clients over the years, and lots of our clients have become friends!
Jerry Eddinger founded the firm with his wife, Mary Lou, in 1968. A former plumbing contractor, Jerry made the leap into general contracting, and the company has been busy ever since. Jerry served in the U.S. Navy, traveling the world for the Navy baseball team. He has been active in local government, serving twice as Healdsburg's Mayor, and has been a member of the Healdsburg Planning Commission since 1996. Jerry also volunteers for numerous community organizations. In 2001, Jerry was honored with the Spirit of Sonoma Award from the County of Sonoma, for his dedication to a healthy economy and a strong community.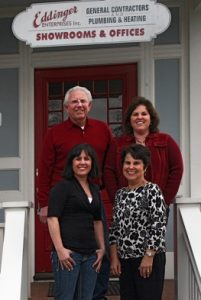 Mary Lou Eddinger is a key member of the family's decision-making team, offering her perspective as a community volunteer and a successful retailer. Mary Lou stays busy with her grandchildren and her many volunteer and charitable projects when she's not involved with the management of Eddinger Enterprises. She is also a Board Member of the Healdsburg Education Foundation (HEF).
Nancy Eddinger Madarus is a licensed general contractor, and shares project management duties with Jerry. She has a degree in marketing from Santa Clara University, and brings a high degree of professionalism to her work. She is currently serving as a member of Healdsburg Building Advisory Panel.  Nancy's husband, Kevin Madarus, is also an integral part of the  family business.
Susie Eddinger Cavallo is a licensed plumbing contractor and manages the plumbing side of the business in addition to her involvement in a variety of company projects, including the company's commitment to green-building practices. Like everyone else in her family, Susie volunteers time in the community especially her commitment to youth sports and St. John's School. Susie and her husband, Scott Cavallo, also own The Welding Shop, a full-service welding firm.
Joe Madarus, (Nancy and Kevin's son) has joined the management team and is a third generation building with Eddingers. He has a degree in Marketing with a minor in Economics from the University of Nevada, Reno.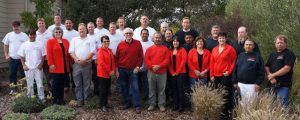 Front Row: Daniel Avila, Sandy Dobbins, Ken Palmer, Mary Lou Eddinger, Jerry Eddinger, Lamberto Sandoval, Susie Cavallo, Tony Hernandez, Nancy Madarus, Brigid Irons , Genaro Avila , Alan Johnson
Second Row: Jose Enriquez, Dave Wilson, Steve Carreras, Sylvestre Blanco, Ian Humber, Byron Gudmundson, Dave Miller, Sig Yeilding, Jose Garcia, Scott Ward, Joey Williams, John King , Rich Ramirez, Kevin Madarus, Rik Stephens
Brigid Irons is the warm voice on the telephone and the friendly face at the reception desk at Eddinger Enterprises. A longtime family friend, Brigid came to work at Eddinger Enterprises in 2001. As Office Manager, her duties include project management, and a variety of administrative tasks. She volunteers as a Healdsburg Little League Board member and in Healdsburg classrooms.
Sandy Dobbins' duties include receivables and payables, employee benefits, and a wide variety of administrative and bookkeeping tasks.  She previously served on Windsor Unified School District's Board of Trustees, currently serves on the Windsor Wellness Committee, and volunteers in many school-related activities.
Ken Palmer manages the plumbing side of the business, as well as being involved in estimating and project oversight. He previously owned Pacific Plumbing, which was purchased by Eddinger Enterprises in 1994. Ken is a second-generation plumber, born and raised in Duncans Mills.
Kevin Madarus has been with Eddinger Enterprises since 1997. Kevin is the project manager for commercial metal buildings and coordinates the crews on all the job sites. Kevin is a Healdsburg High School graduate and volunteers with community projects, including youth sports.
Dave Wilson – Dave is a conscientious and thoughtful supervisor. With the company since 2003, Dave works primarily on residential projects, where his friendly and reassuring style is popular with our clients.
John King – John is good-natured, experienced and thorough. After 20 years with the company, John is well-known to our repeat customers and is at home managing a small remodel or a large, commercial building.
Rik Stephens – Rik has been with the company since 2003 and is an experienced superintendent and problem-solver. He is involved with many of our commercial and industrial projects.
Daniel Avila — Daniel has led our painting and finishing crew since 2000. He is flexible, talented and practical and our clients value his meticulous attention to detail.
Alan Johnson — Alan is our lead plumber. Three decades in the trade and with us since our plumbing division was created in 1994,  clients appreciate his work ethic learned in the U.S. Navy.